During the pandemic, video games have become a real outlet for millions of people who want to take a little break from the frightening reality. That is why the digital distribution service Steam has been updating its peak online record almost every week for the past couple of years. And the other day it happened again.
It is likely that the new surge in the popularity of the store is associated with the recent release of the PC version of God of War, which for the second week in a row holds the lead in the Steam sales chart. However, this is just speculation.
The fact is that on Sunday, January 23, at 17:30 Moscow time, more than 29.1 million people were in the Valve store at once. This, we repeat, is the highest one-time online in the history of the site.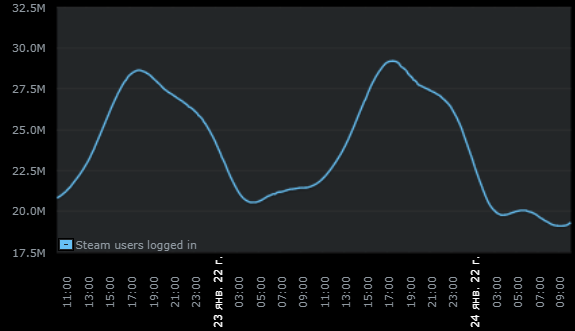 By the way, the record was already the third in January. As of the 2nd, the platform's peak traffic was 27.9 million users. A week later, on January 9, the record was broken – 28.2 million gamers. But this indicator, as it turned out on Sunday , did not last long in the status of a record.