During a special event for investors, Toshiba shared plans to develop new drives based on a magnetic disk. According to the CEO of the Japanese company Hiroyuuki Sato, over the next few years the company plans to overcome the HDD capacity of 40 TB.
The presentation showed a detailed roadmap of the company for the next five years. According to statistical calculations, the volume of data is increasing at a double-digit rate every year. In this regard, there is a need for high-capacity drives not only among consumers, but also among companies providing cloud storage services.
To this end, Toshiba plans to use advanced recording technologies such as Microwave Assisted Switching-Microwave Assisted Magnetic Recording (MAS-MAMR) and HAMR. So, for the production of hard drives of 26 TB and 30 TB, MAS-MAMR will be used, but for the production of drives with a capacity of 35 TB and more, the company intends to switch to heated magnetic recording (HAMR) technology. According to the announced plan, by 2026 Toshiba is going to increase the capacity of hard drives to 40 TB and even more.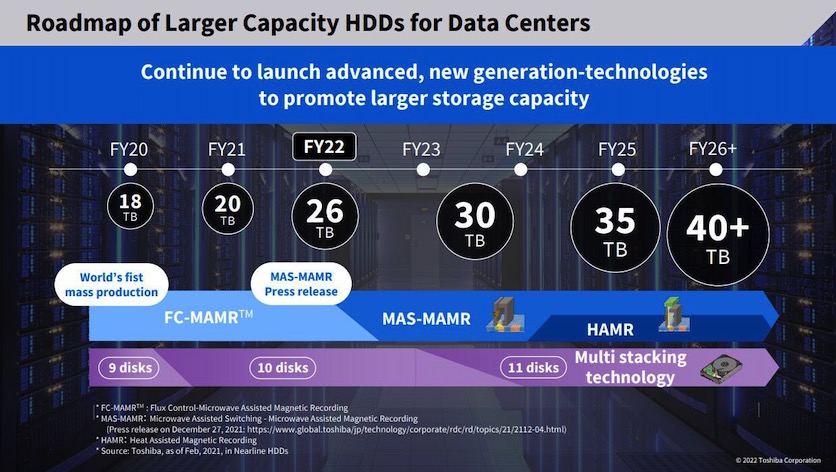 The company's hard drive line is now divided into four key segments. So, the AL series is focused on the Enterprise Performance market, MG is being developed for the needs of enterprises and data centers. Models MQ and DT are designed for mobile solutions and surveillance systems or PCs, respectively.