Samsung plans to expand its microchip business plan and overtake current leader TSMC by 2030. However, the Taiwanese company is in no hurry to cede the lead and is noticeably ahead of the South Korean giant in terms of investment in the development of new technologies.
According to South Korean media, in 2022, Samsung intends to invest $37.3 billion to expand its chip factories. TSMC will allocate $7 billion more for these purposes. Accordingly, this will further increase the gap between the companies, which will make it much more difficult for Samsung not only to overtake, but even catch up with the main competitor.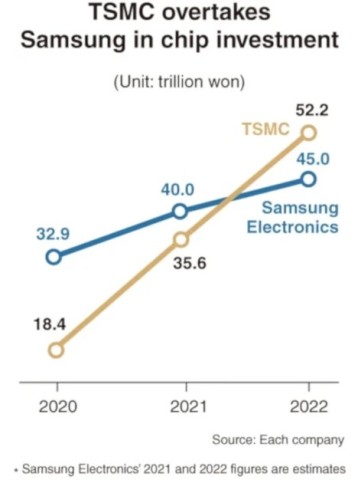 Due to a number of circumstances, TSMC is delaying the release of 3nm chips, which were originally supposed to be released in 2022, which could create serious problems for large electronics manufacturers such as Apple, Intel and AMD. Despite this, they cannot do without the products of a Taiwanese company. Its chips are now critical to the global production of processors, graphics cards, artificial intelligence, cloud computing, home appliances, and more.
TSMC's popularity is due to the fact that its advanced 7nm and 5nm chips were of higher quality than similar Samsung products. However, the South Korean company intends to start production of its 3nm chips in the second half of 2022, which should help it close the gap.
According to preliminary data, Samsung will be able to get ahead of TSMC by launching mass production at least a month earlier. If the Korean company's new technology proves itself well, then it will also be used in the production of 2nm chips in 2024.