The Internet now contains over a billion web pages. Four key platforms power more than a third of the market. WordPress dominates the CMS market, accounting for more than 60% of all websites worldwide. WordPress is an "open source" content management system, which means that everyone can see the code that powers it. Because it hosts so many websites, it has become a target for hackers looking to infect or control it. When hackers discover a security flaw in WordPress, a theme, or a plugin, they use automated attacks to infect a large number of websites.
WordPress requires little effort and education from the website owner. Every day, the WordPress security team works hard to mitigate any vulnerabilities that may arise within its core. Security updates are included in core updates, which are released regularly. Over 2,500 security flaws have been patched since the release of WordPress.
For over a decade, Security Ninja has made hundreds of website owners feel safe from any possible hacking attempt. The Security Ninja plugin is extremely simple to use; it performs comprehensive vulnerability checks. It does that with a single click. The great thing is that you will then be able to see displays of the results in color-coded code, along with explanations. They will also provide solutions to fix them. Over 40 security tests, including brute force attacks, are performed by this plugin.
You can easily perform vulnerability and breach checks for your WordPress website. It assists you in taking preventative measures against attacks that can occur. For quick fixes, Security Ninja provides code snippets you can easily use. This plugin's great feature is that it prevents Script Kiddies from hacking your website. It enables you to conceal your WordPress version. There is also a debug mode and auto-update tests that are both very helpful. The offer includes extensive documentation. Any help you might need will be provided quickly and professionally.

Security Ninja is a useful plugin you need to have if you want to detect any flaws or vulnerabilities in your website. Because the plugin is compact, it has little impact on the speed with which my website loads. When you test it, it will have no effect at all, which is a big deal for most website owners. Once installed, all you have to do is click the 'run tests' button and it will get to work. The scan takes about a minute to complete. The plugin is compatible with any website template and does not interfere with other plugins. It also makes no difference in the code. Even though it checks around and highlights vulnerable code, it doesn't change anything unless you tell it to.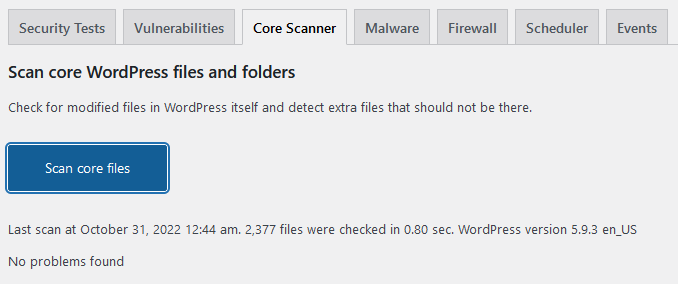 Core Scanner Module checks WordPress core files, helps to monitor your core files, looks for modified core files, and allows you to restore them. As new issues and, most importantly, security updates are released, you must update your WordPress installation. If you make changes to your WordPress installation, the update will overwrite them. You are vulnerable to potential attacks if you do not update WordPress. That can happen because you choose not to overwrite your changes or because the update mechanism has been disabled.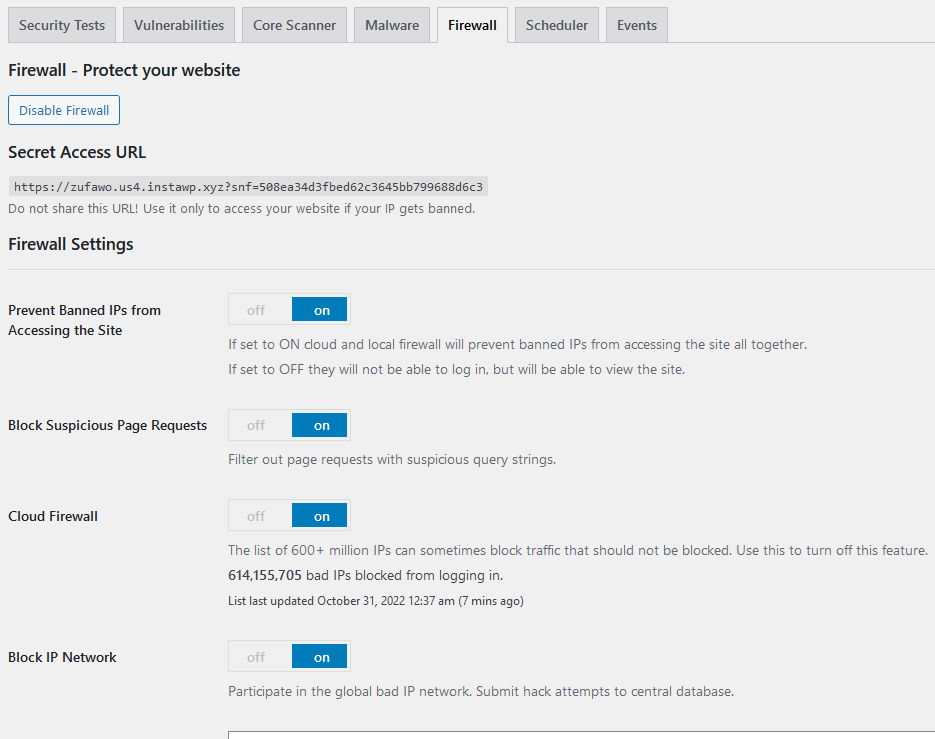 This plugin also offers a WordPress Firewall. The strongest kind of protection is to stop bad visitors from even accessing your website. Security Ninja's built-in firewall defends your website from hackers by blocking its attempts. Visitors from countries that you do not want to access your website can also be blocked. Refuse multiple attempts to log in with incorrect passwords or unknown usernames. Avoid having brute-force attacks slow down your website.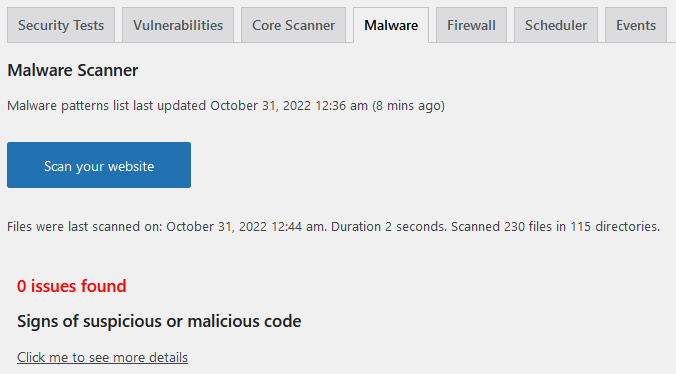 Websites are frequently "infected" because the administrator/owner installs malware. The WordPress community benefits from a large number of open-source or free plugins and themes. The Malware Scanner for WordPress scans all custom WordPress files for vulnerabilities and suspicious content, including themes, plugins, downloads, and a variety of options. It is critical to manually go through the files and look for questionable sections of code. If you are confident that they are safe, select the file.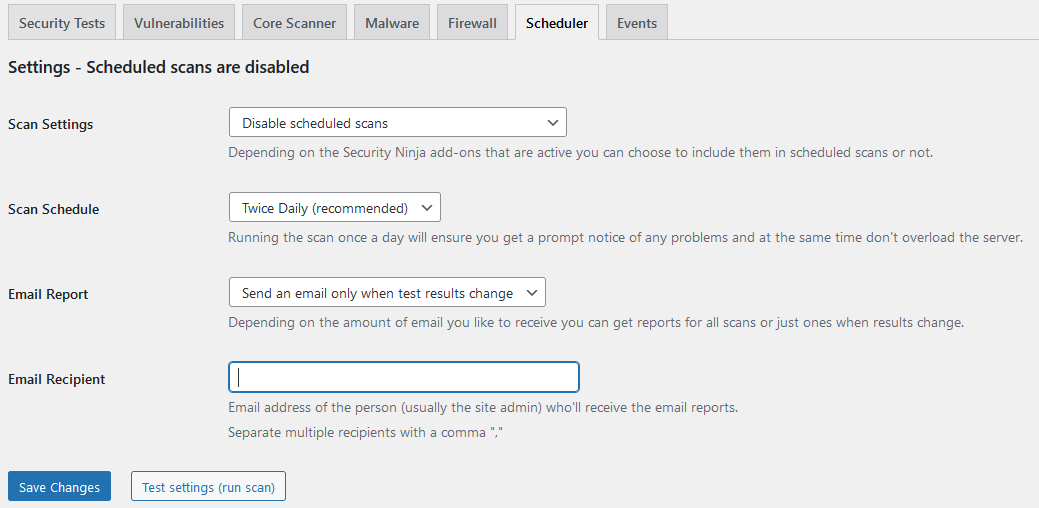 A scheduled scanner allows you to perform regular interval tests on all files, including core files, and receive email notifications of any changes. With automated scans and email reports, Security Ninja will provide you with peace of mind. It allows you to be notified when your website is hacked. The amazing thing about this feature is how simple it is to set up. An optional email report is also available. You will be able to obtain them after each scan or only when changes are made to your site. A detailed, color-coded scan log is also available.
The Event Logger records and displays all 50 events that have taken place on your website. The event log examines all user actions. You should know what is going on with the site at all times, both in the admin and on the front. Prevent clients' misunderstandings. You can easily filter through your planned events. This feature will make your professional life much easier.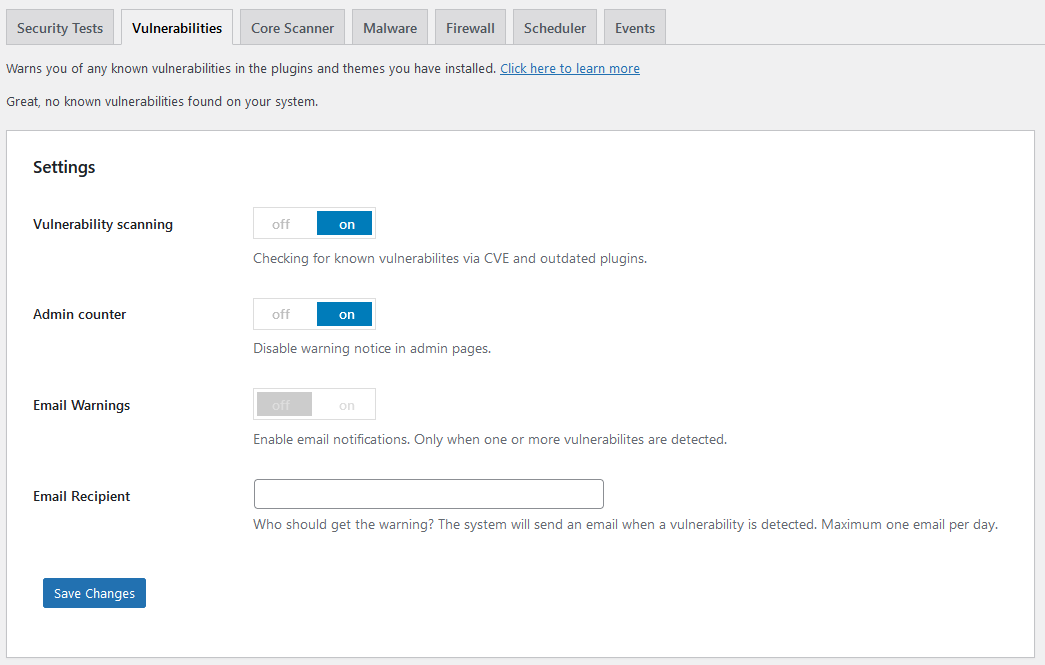 Security Ninja provides free security audits for your WordPress site. The WordPress Vulnerability Scanner is an amazing option to have. This feature alerts you if a plugin has a known flaw that allows cybercriminals to harm your website. They search public repositories for WordPress vulnerabilities. Following the scan, the list is compared to the plugins successfully installed on your webpage.
Security tests form the foundation of Security Ninja. The test results integrate years of WordPress security expertise. It gives you a comprehensive review of everything that you need to understand about your webpage, from poor password quality to improperly arranged MySQL account information. The color-coded outcomes are straightforward to read, and the overall score provided provides a fantastic before-and-after reference value.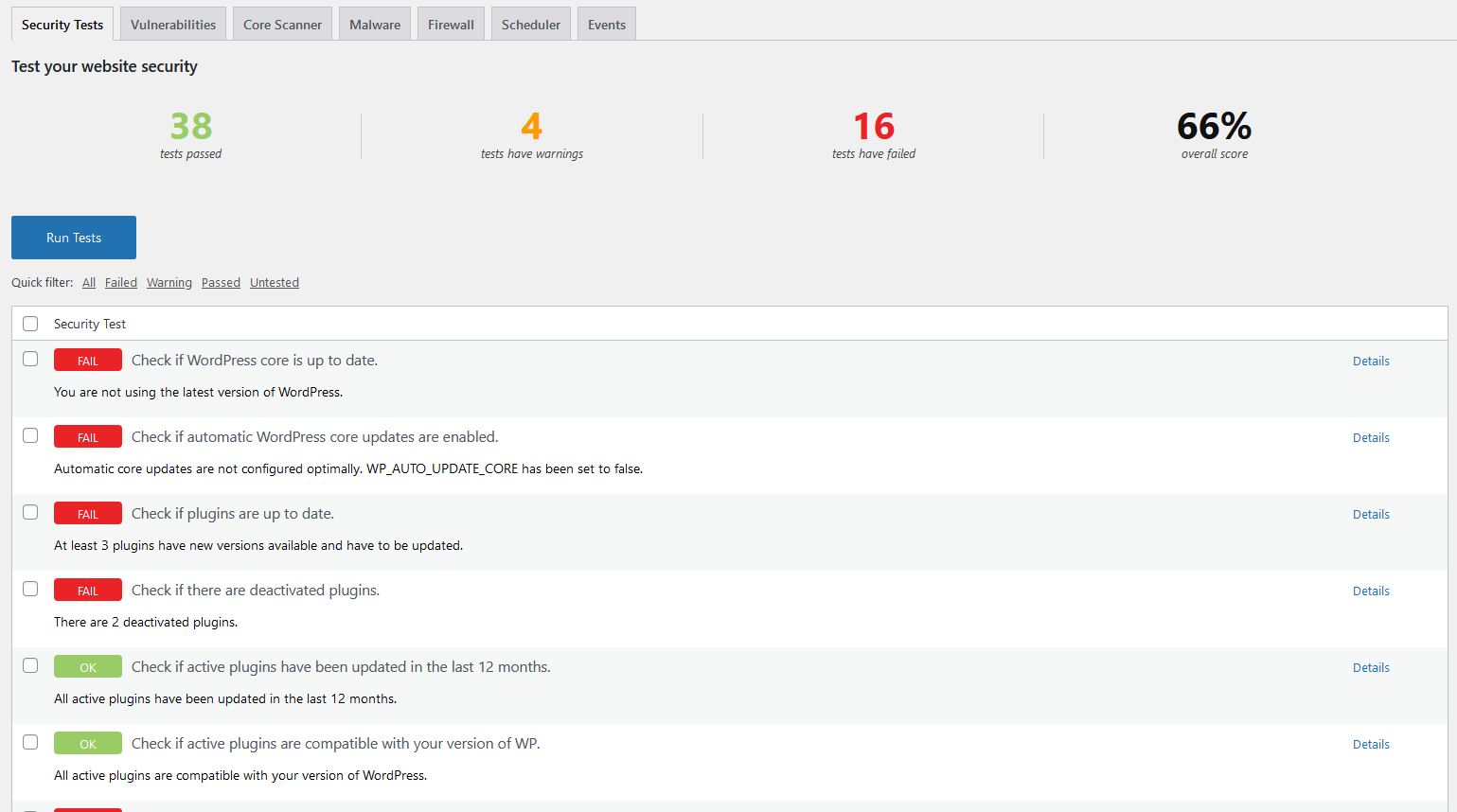 You can easily test this plugin. Each update brings not only new features but also security updates and changes to the system that safeguards your website from common vulnerabilities that can be easily exploited. WordPress checks for updates and notifies you when new versions of your themes, plugins, and core are available.
The MainWP Dashboard enables you to manage multiple WordPress websites. You can do it from a single interface. Download the free Security Ninja for the MainWP Extension. Then you will be able to see a list of all the websites where Security Ninja has been installed! The extension only needs to be installed on your MainWP master webpage. There is no need to install a separate plugin on each of your other sites. The incorporation with MainWP is constructed into the primary plugin.
Conclusion
Although WordPress is secure, all websites are targets for hackers. A newly released (updated) webpage that receives little or no traffic is also vulnerable. Because they are less (or not at all) protected, small, unpopular websites are more frequently targeted by hackers. When targeting a person, however, the level of sophistication of the attack is much higher than when targeting a robot, i.e., a bot. A human attacker can control the rate at which data about your website is collected to avoid detection of the attack.
It's nearly impossible to avoid creating security flaws when writing code. When hackers discover these flaws, they exploit them, leaving you with a compromised or hacked website. Security Ninja is a must-have plugin for every website owner. As you could've noticed reading this article, this plugin offers a lot of amazing features.