Custom kernel helps you to control your CPU cores, threads, battery optimizations, screen refresh rates, different kinds of setting modes, and lots of features it has included in this application. Right now an Elemental X custom kernel app now supports OnePlus 8 Pro device you can download elementalx for OnePlus 8 Pro.
ElementalX app also offers you to control CPU core frequencies, GPU clock speed, and memory management. it has the main dashboard, CPU, Graphics, Gestures, Memory, Miscellaneous activity control. Here are full fledge of details the Elemental X kernel application.
ElementalX App info:
| | |
| --- | --- |
| App Name | Elemental X |
| Size | 9.9MB |
| Version | 5.37 |
| Developer | ElementalX |
| Requirement | Android 4.2 and higher |
| Last update | May 7, 2020 |
Dashboard: your homepage within the app, Dashboard summarizes your current settings and shows real-time CPU and GPU frequencies, temperatures, memory usage, uptime, deep sleep, battery level and temperature, governors, and i/o settings.
Battery Monitor: the most accurate way to measure battery life. EXKM's Battery Monitor is designed to show battery statistics that you can use to improve battery life scientifically. EXKM Battery Monitor measures % battery use per hour and gives separate statistics for screen off (idle drain) and screen on (active drain). It automatically measures only when the battery is discharging so you never have to remember to reset the stats or create markers.
Script Manager: easily create, share, edit, execute and test shell scripts (requires SuperSU or Magisk)
Flash and Backup: save and restore kernel and recovery backups, flash any boot.img, recovery zip, Magisk module or AnyKernel 2 zip
CPU Settings: easily create, share and load CPU governor profiles for maximum battery life. Adjust max frequency, min frequency, CPU governor, CPU boost, hotplugging, thermals and voltage (if supported by kernel or hardware)
Graphics Settings: Max frequency, min frequency, GPU governor and more.
Advanced Color Control: RGB controls, saturation, value, contrast, hue and K-Lapse. Save, load and share custom profiles. (requires kernel support)
Wake Gestures: sweep2wake, doubletap2wake, sweep2sleep, haptic feedback, camera gesture, wake timeout and more (requires kernel support). Asus ZenFone 2 gestures are fully supported.
Custom User Settings: This feature allows you to add any kernel setting you want. Kernel settings are located in the /proc and /sys directories. Simply navigate to the desired path and you can quickly and easily add the setting to the app where it can be changed on the fly or applied at boot. Plus you can easily import/export your custom settings and share with other users.
Memory Settings: adjust zRAM, KSM, low memory killer, and virtual memory settings
Sound Control: adjust speaker, headphone and mic gain. Supports elementalx, faux sound, franco sound control, and others (requires kernel support).
CPU Times: Show CPU frequency usage and deep sleep, and optionally sort by most used frequencies.
Update or Install ElementalX: Get notified and quickly download and install the ElementalX Kernel on your Nexus 6P, Nexus 5X, Nexus 5, Nexus 6, Nexus 7 (2013), Nexus 9, HTC One m7, HTC One m8, HTC One m9, HTC 10 and OnePlus 3.
Many other settings: i/o scheduler, readahead kb, fsync, zRAM, KSM, USB fast-charge, TCP congestion algorithm, last kernel log, magnetic cover control, memory settings, entropy settings, Vox Populi and much more!
Other features: configurable, one-click Powersave mode and Performance modes, CPU temperature notification, language chooser, theme chooser, auto-powersave mode and more!
Download ElementalX APK For OnePlus 8 Pro
Here you can download the latest Elemental X kernel OnePlus 8 Pro:
[su_button id="download" url="https://play.google.com/store/apps/details?id=flar2.exkernelmanager" size="5″]Download Now Elemental X[/su_button]
[su_button id="download" url="https://www.androidfilehost.com/?fid=4349826312261805426″ size="5″]Download Now Elemental X APK (Android 10)[/su_button]
How to Install Elemental X in Oneplus 8 Pro
if you're using Elemental X kernel apk so first if all uninstall this and download this MOD application on your android phone and follow this instruction below:
At first download the latest Yasin Gaming Injector APK on your smartphone by using Google Chrome.
Maybe your phone asks User permission to allow to install.
Then just allow it.
When it's done just open it and allow all the permission the Download wants from you.
That's It.
Method 2
Step 1. First of all, download the app on your Android smartphone from the download link given below. Make sure to remember the location where you have saved the file.
Step 2. Once downloaded, you need to enable the Unknown Sources on your Android device. For that, head to the Settings > Security > Unknown Sources and then enable it.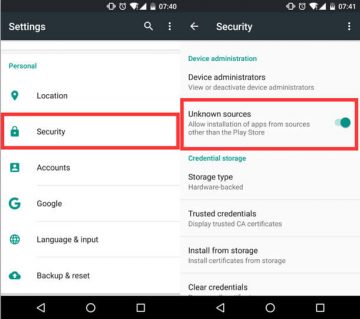 Step 3. Once enabled, you need to head to the location where you have saved apk and then open it and tap on 'Install'
Step 4. Wait for few seconds until the app installs on your Android smartphone. Once installed, open your App drawer and tap on the Elemental X icon use it.